Toyota Tundra near Fergus
Fairest in Sales, Finest in Service
Tough Truck With Great Technology
It's not all about work! Enjoy your music with the available six-speaker sound system.
A Touch of Comfort
Treat yourself to the available and stylish leather seating and heated front seats.
Know Where You're Going
Stay safe by seeing what's going on behind your Tundra with the backup camera.
We Will Exceed Your Expectations
We're sure we can find you the best deal on your ideal Toyota Tundra.
You're looking for a strong, tenacious workhorse near Fergus that can take the heat without buckling under the pressure, and your Toyota Tundra is eager to prove itself as that truck. With ten thousand pounds of towing capacity, this truck can handle the heaviest cargo without breaking a sweat. And there's no need to worry, whether you're on the work site or on the road, you're safe. Your Tundra has a huge amount of standard and available safety features as part of the Toyota Safety Sense and will prevent you from getting hurt. This truck will also keep you secure with its technology, including its Bluetooth capability,
which will let you use hands-free headsets. The Tundra you choose will depend on the dealership from which you get your truck. If you want the best Toyota Tundra near Fergus, then there's only one place you should visit - Forbes Waterloo Toyota. Is our sales team exceptionally knowledgeable and qualified to find your perfect Tundra? Yes, absolutely! And so is our financing team, they will give you a deal you wouldn't believe. When you're ready to discover the truck that will be the best ride of your life, come in to our dealership and take a test-drive of your future Tundra.
Free Car Washes for Life
Come in for a service, leave with a freshly-washed vehicle!
Gift with Every Purchase
It's just one of the ways we say "thank you" to our customers.
It's on Us!
When you purchase a pre-owned vehicle, your first oil change is free.
Complimentary Shuttle
Need a lift while your car is in for servicing? Our shuttle is standing by!
Why Choose Forbes Waterloo Toyota
Your Toyota Tundra is Equipped With Great Safety and Time-Saving Technology
Sometimes you don't even realize that your visibility is compromised. Take a step back and assess the situation, is it gloomy and dark? You won't have to keep track of that in your Tundra, which has the available LED Daytime Running Lights. With your next Toyota Tundra near Fergus, you can just get in and go. Starting your trips will be faster and easier than ever with the available keyless entry. Toyota Tundra is always working to make your day safer and easier.
You Can Haul Anything You Want
If you're ready to make the most of every trip, you can count on your Toyota Tundra to be on the same page. With the available 8.1-foot cargo bed, this truck won't need to make a second trip. And keeping everything you loaded on packed tightly for the duration of the trip? That can be done with the available bed rails and tie-down cleats, which will ensure that everything you put in your truck will be in the same condition at the start and the end of the journey.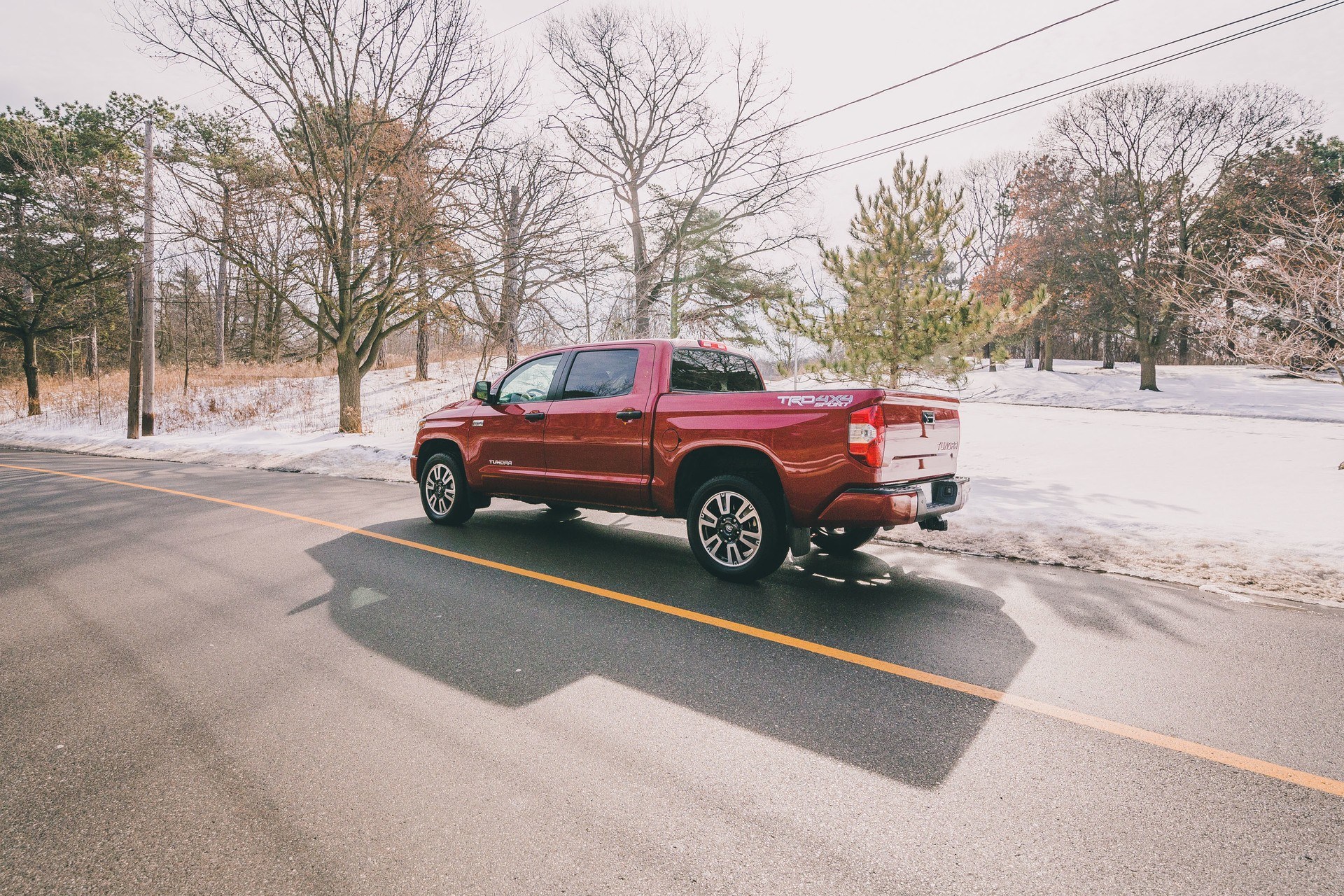 Stay Safe on Every Trip
Whether you're driving across the country, or are just headed to work, your Tundra is prepared to deal with the unexpected hazards that can crop up at any time. In case of a collision, this truck is equipped with eight airbags which will protect you and your passengers. The best strategy is to avoid serious incidents altogether, and your Tundra has the available cruise control for that, making sure you get where you're going in absolute safety. Test it all out for yourself near Fergus today!
This Dealership Sells the Best Toyota Trucks near Fergus
We don't mean to brag, but the Toyotas we sell are the toughest, strongest, most capable trucks on the market. You could say that it's true about all Toyota trucks, and you're right, but we provide the exceptional service that makes purchasing your Tundra that much better. Discover the superior inventory and dedicated teamwork that prompts our customers to give us five-star reviews time and again. Visit Forbes Waterloo Toyota and find your ideal Toyota Tundra today.