Toyota Corolla near Cambridge
Fairest in Sales, Finest in Service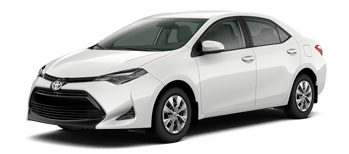 If you could imagine the perfect go-anywhere, do-anything sedan, what would it look like? Would it be powerful and efficient? Would it be stylish and comfortable? And most of all, would it be safe and reliable? If you're looking for a vehicle that offers this, and so much more, choose the Toyota Corolla. To find your Toyota Corolla near Cambridge, visit Forbes Waterloo Toyota today!
At Forbes Waterloo Toyota, you'll find much more than a stunning selection of new and used Corolla models. When you choose us, you'll discover an unparalleled dedication to your happiness, and a commitment to setting new standards of excellence in customer service. And with perks like our amazing referral program, one complimentary oil change for pre-owned models, and a gift with every purchase, it's no wonder we're a top choice for drivers all across the Tri-Cities!
If you're ready to step up to excellence, and get behind the wheel of a Toyota Corolla near Cambridge, visit Forbes Waterloo Toyota today! You can find us at 300 Weber Street North in Waterloo, ON, or call us at 519-885-2000.
Since 1921
Serving the Waterloo community and surrounding areas since 1921.
Collect Points
Earn Aeroplan points when you buy a Toyota, take a test drive, or service your vehicle!
Student Discount
10% labour discount for university faculty and students.
Why Choose Forbes Waterloo Toyota
Stylish Looks, Inside and Out
From every angle, the Toyota Corolla is set to stun. Its chic and sporty lines invite your gaze to play over the body panels, while the aerodynamic sculpting lets you cut through traffic with ease. Rest, relax, and refuel in the intuitively-designed and comfortable interior, with available heated seats and steering wheel to help keep the chill off. Bring style to the streets with a Toyota Corolla.
Fuel-Efficient Fun
Just because an engine is efficient, it doesn't mean you have to sacrifice on power or fun! The standard 1.8L, 4-cylinder engine delivers 132 horsepower. Combined with the Corolla's nimble handling, that's enough power to make you say "whoa" on the highway. The best part? You'll also get efficiency you'll notice as you cruise past the gas station.
Smart Safety
With their advanced systems, it might feel like the Corolla has a sixth sense for safety. Well, it does! It's called Toyota Safety Sense, and it comes standard on all Corolla models. Stop a collision in its tracks with the Pre-Collision System, and stay on the straight and narrow with Lane Departure Alert. The Toyota Corolla helps ensure you arrive safely at your destination, no matter where that destination is.
Intelligent Technology
Make your Corolla's console into command central with an intelligent entertainment system. Keep all of your music at your fingertips with steering wheel-mounted controls, and easily customize a playlist for any occasion with the intuitive touchscreen system. In the Toyota Corolla, all you have to do is kick back, relax, and drive to the beat!